Micah's Rules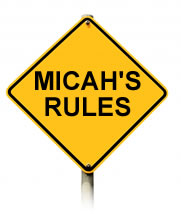 1. Remain silent when questioned by the police.
Americans have fought long bloody wars to protect your right against government-coerced incrimination. Don't make statements without a lawyer present. Don't be coerced into making statements without a lawyer present.
2. Always be polite and courteous to the police.
They are out their doing their job. Be polite, state only your name and address, provide requested documents, and otherwise keep your mouth shut.
3. Never submit to blood or breath "tests".
These machines were designed to send you to jail. Refuse them.
4. Never let the police search your vehicle.
You have no idea what your friends may have put in your vehicle. People go to jail for a long time for something a friend stuffs under their seat.
5. IF YOU HAVE ANY QUESTIONS, SEE RULE #1.
6. Call Micah – (903) 744-4252.